The on-demand services based app industry enjoys an abundance of apps like Handy, which acts as a connecting bridge between the people seeking home-based services, and the eager service providers who offer their professional expertise to make money.
Do you ever get curious wondering what the on-demand model is? And why is it so popular? Is it possible for you to make an on-demand app like Handy yourself?
This article is complete enough to satisfy any of your curiosities regarding the on-demand apps, and the little details which will help you in creating one such app of your own!
Let's get going with the basics first:
Why The On-Demand Model?
The on-demand business model is no longer a competition for the traditional business paradigms; it, in fact, has swiftly taken over the market.
Emerged with the start-up companies such as Uber and Airbnb, the entire on-demand economy has outstretched itself to more than 42% of the total US adult population — which amounts to north of 88 million people as of today!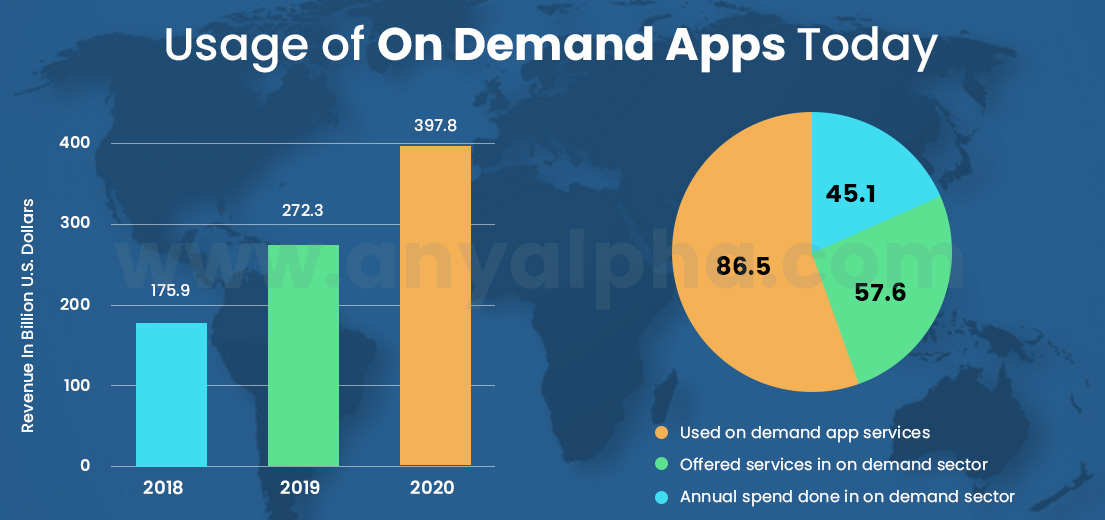 These huge numbers directly put to display the success of the on-demand market, and project a promising future.
But why are on-demand apps and services so popular? There are two well-founded reasons behind their popularity:
Flexibility regarding time on both the sides.
Flexibility regarding services on both the sides.
The "sides" are the end-recipients of a service, i.e., the customers and the service providers.
The customers can choose when and where they want to receive a service. On several occasions, the general and one-size-fits-all services provided by the vendors don't fit the customer requirements completely.
The service customizations provided by most on-demand apps like Handy let the customers make a service fit them perfectly. This is the biggest reason for the success of the on-demand app industry.
The service providers too, enjoy these flexibilities as they don't have strict working hours and may provide only the services they're inclined to provide, without additional obligations.
Next, let's see the features that are indispensable for any on-demand app.
A List of Handy's Features (The Must-Haves For Any On-Demand App)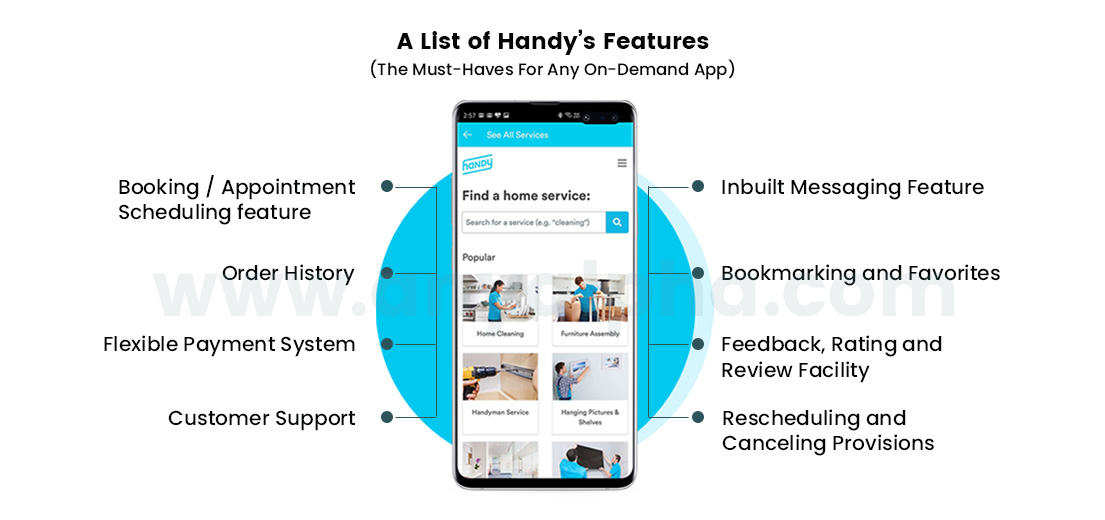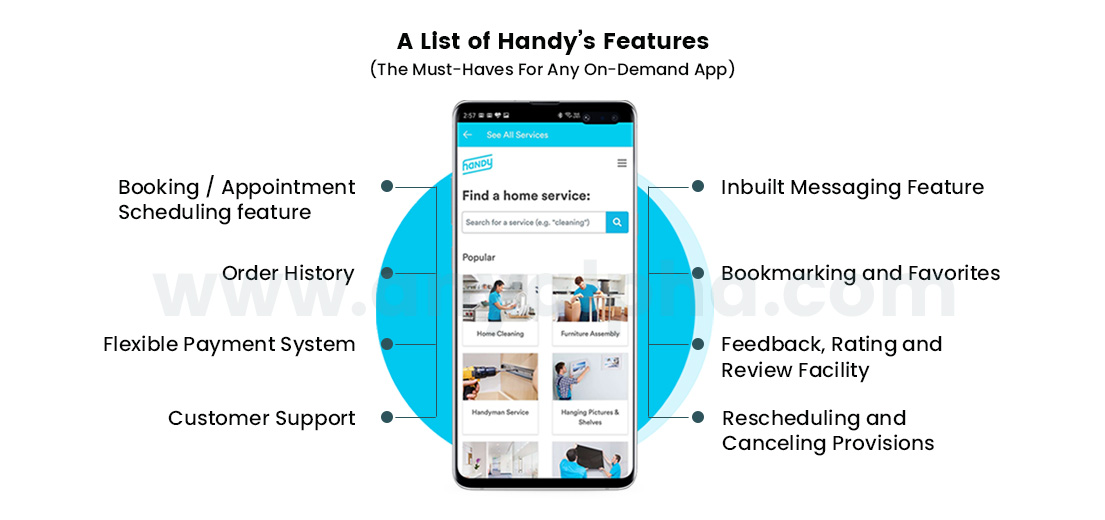 Handy is a perfect representative case of an on-demand service with first-rate functionalities.
These functionalities are a result of the carefully chosen product features, such as:
1. Booking / Appointment / Scheduling feature
The booking feature to schedule an appointment is the fundamental feature of any on-demand app like Handy.
Without the explicit capability to book for an appointment, if the option of scheduling a service session is left to the discretion of the individual buyers and sellers, they're more likely to mismanage things, which could negatively impact your on-demand app.
From the vendors' point-of-view, an essential sub-feature to add in the booking section is the ability to reject or cancel an appointment, if they find themselves unable to provide a service under the given constraints.
 2. Order History
The booking history of the on-demand services ordered by the customers should be made available to them.
This is critical for plenty of reasons, ranging from managing their finances to keeping track of the particulars of a service.
A suitable booking history should detail:
The time and date of the bookings made.
The name and contact information of the service provider.
A unique booking number, to more conveniently address grievances with the customer support.
3. Flexible Payment System
Similar to what the Handy interface allows, in a good on-demand app, the customers should have the liberty to opt for a payment gateway that suits them the best.
The flexibility to make the payment through a variety of options, such as debit, or credit cards, PayPal, cash wallets etc. makes your on-demand app more desirable.
4. Customer Support
Both the customers and the service providers are the clients of an on-demand app.
Your clients will choose you over others if you have a dedicated team of professionals to provide customer and technical support.
Acquainting your on-demand app with an experienced crew to provide cooperation and assistance to your clients in case of any unfavorable event could pay you high dividends in the long run.
5. Inbuilt Messaging Feature
Any on-demand app that works on the consumer-vendor model must have an inbuilt messaging feature so as to connect the customers with service providers without having to exchange personal information.
The inbuilt messaging mechanism allows for both the sides to better understand each others' demands and requirements in real time. This often has a direct impact on customer satisfaction.
6. Bookmarking and Favorites
This is an appealing feature which enables the customers to save the information about a specific service provider, whom they personally prefer.
This helps in building long term buyer-seller relations, which is one of the pillars of any on-demand service apps.
7. Feedback, Rating and Review Facility
Allowing both the customers and the service providers to leave a feedback, rating or review makes for a more professional environment overall.
Handy app uses its feedback system as a measure to encourage the service providers into improving their service quality, and aim for higher rating targets.
8. Rescheduling and Canceling Provisions
Whether the underlying reason is urgency, reconsideration or simply a personal judgment — providing the provision of rescheduling and/or cancelling a booked service is necessary to let your clients know they have the complete freedom of their decisions.
How the On-Demand Apps Make You Money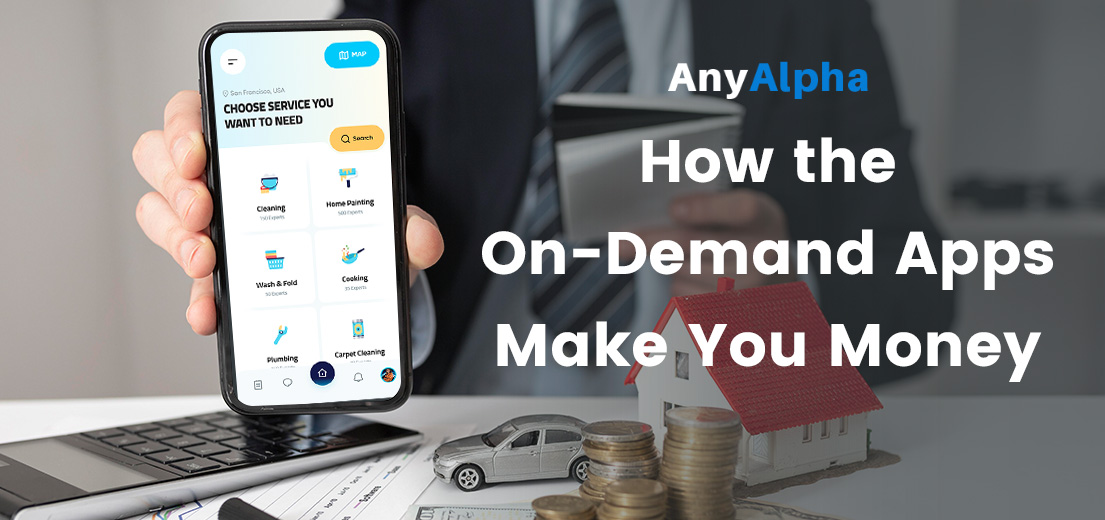 Using your on-demand app, the service providers will earn money through the customers. How will you — the founder — reap the well deserved rewards?
There are four basic ways to earn money from your on-demand services based app:
Charging commission or processing fee per order
Premium subscriptions
Surged charges during peak hours
Advertising
Since commenting on app monetization isn't the purpose of this article, we'll not discuss it further and move on to a case study on Handy, which will help us better understand the overall dynamics of the on-demand apps industry.
Our Beloved On-Demand App: Handy | Case Study
Knowing about Handy would mean knowing more about on-demand apps, as Handy is widely accepted to be a great example of an on-demand service with unparalleled serviceability.
The basic overview
Handy is an interactive platform that helps the individuals searching for household services, such as cleaning, plumbing, electrical management, window treatment, moving, painting, furniture assembling etc.
It connects the customers with professionals who are screened, reviewed and certified by Handy. Matching the customers with handyman services is a quick process, and the clients find a service provider in usually less than 180 seconds.
Handy's reach and service domain
As per the official website of Handy, it provides services in numerous cities of the US and Canada, and a few cities of the United Kingdom.
Check the complete list of areas in which Handy provides their services here
As of July 2015, Handy was reported to be providing employment to about 10,000 cleaners, and these numbers were observed to be on a rapid rise. As per Handy, hiring these many employees was made possible because 80% of its orders were from recurring customers, which is indicative of Handy's ability to form long-term client relations.
Handy's history and acquisition.
Founded as "Handybook" back in 2012 by two classmates: Umang Dua and Oisin Hanrahan; the now popular Handy arose out of the two classmates' frustrations concerning their inability to find quality and trustworthy handymen for doing relevant jobs.
Oisin Hanrahan, the co-Founder and CEO of Handy stated that the goal of creating Handy was to provide the easiest and the most convenient way for busy people to book household services anywhere they require.
Being true to his words, he successfully made Handy as one of the foremost household services providing platform.
Handy was acquired by ANGI Homeservices In October 2018, and is still experiencing the same steady rise in popularity year by year as it did it its early days.
The investors and the founders who made it all possible
Ignacio Leonhardt and Weina Scott were the first members of the founding team at Handy.
Ignacio worked for 9 hard months to lay strong foundations of Handy, before moving back to his home country of Guatemala.
Weina spent an equally intense 7 months at Handy, and thanks to her, the first version of the Handy's website was set up.
Highland Capital Partners investors Bob Davis and Jeremiah Daly were kind enough to be the first ones to invest in Handy.
Further investments by Joel Cutler and Nitesh Banta from General Catalyst Partners made Handy what it is today.
As per Handy, without their investments, the revolutionary ideas of Handy's founders would have remained just ideas.
Handy's Technology Stack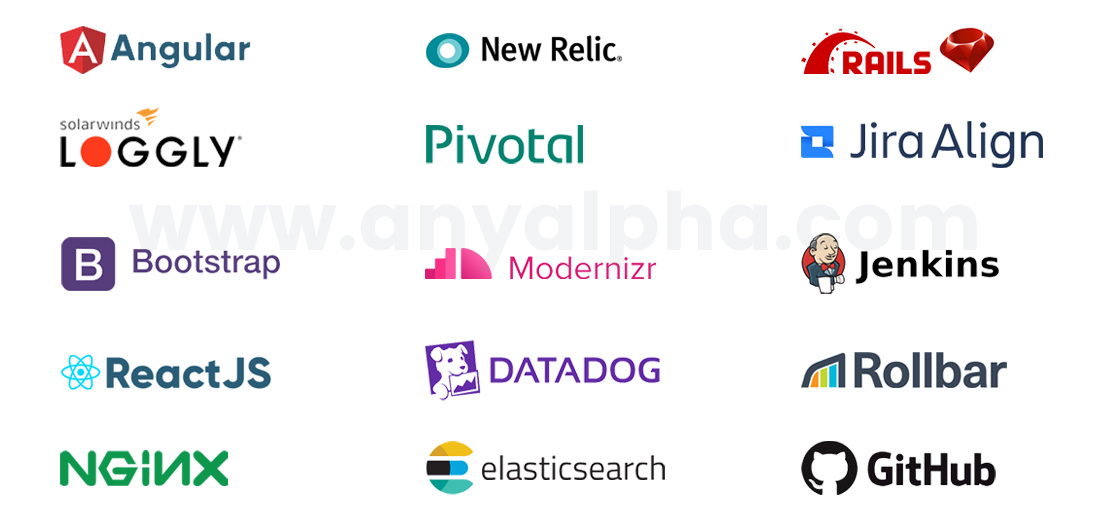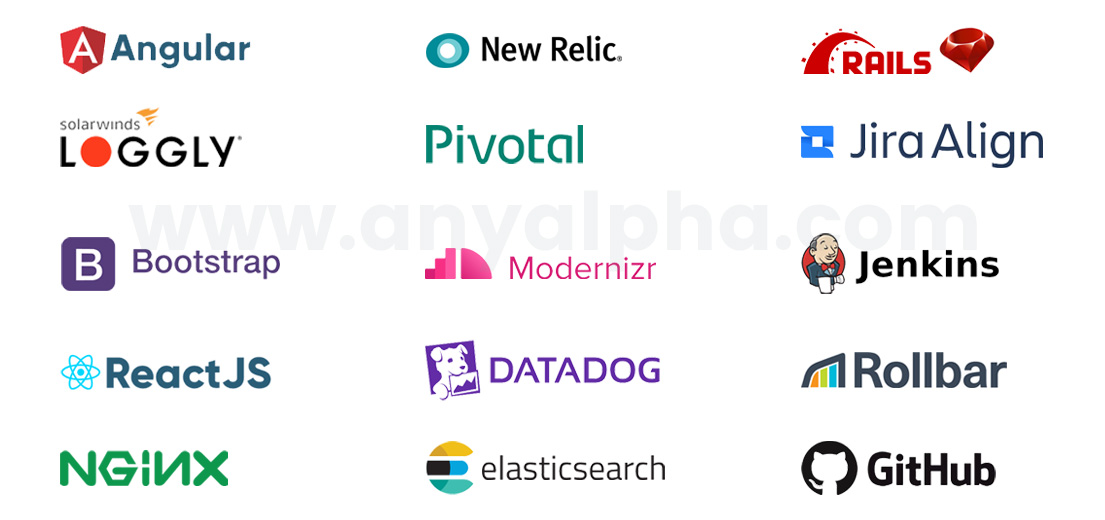 Some of the underlying technologies, websites, data processing tools and programming constructs used by Handy in its back-end are:
Amazon (CloudFront, EC2, Route 53)
AngularJS
Atlassian JIRA
Bootstrap
Chef
Datadog
Elasticsearch (A specialized search engine)
Foundation
GeoTrust SSL (For end to end encryption)
Git
GitHub
GoDaddy (For domain registration)
Google Maps
Invision
Jenkins
Loggly
Modernizr
New Relic
Nginx
Pivotal
reCAPTCHA (A CAPTCHA system)
Redis
Rollbar
Ruby
Ruby on Rails
Twilio (For cloud services, push notifications and SMS/Phone verification)
VictorOps
WordPress
WP Engine.
To implement retail, promotion and advertising strategies, Handy uses the following technologies:
Marketing:AdRoll, Bounce Exchange, BounceX, Customer.io
Sales:Salesforce Sales Cloud, SurveyMonkey, Trustpilot, Zendesk
Product and Design:Google Fonts, Invision
Analytics:Apache Spark, Crazy Egg, Google Analytics, Mixpanel, Optimizely
Human Resources:AngelList Jobs, Checkr, Greenhouse, Hired
Finance and Accounting:Expensify, Jumio BAM Checkout, Stripe
Productivity:Blue Jeans Network, Dropbox, join.me, Slack
The above data is sourced from Siftery, and has been verified by the individuals working at Handy to be correct.
3 Simple Steps to Make a Handy-like On-Demand App of Your Own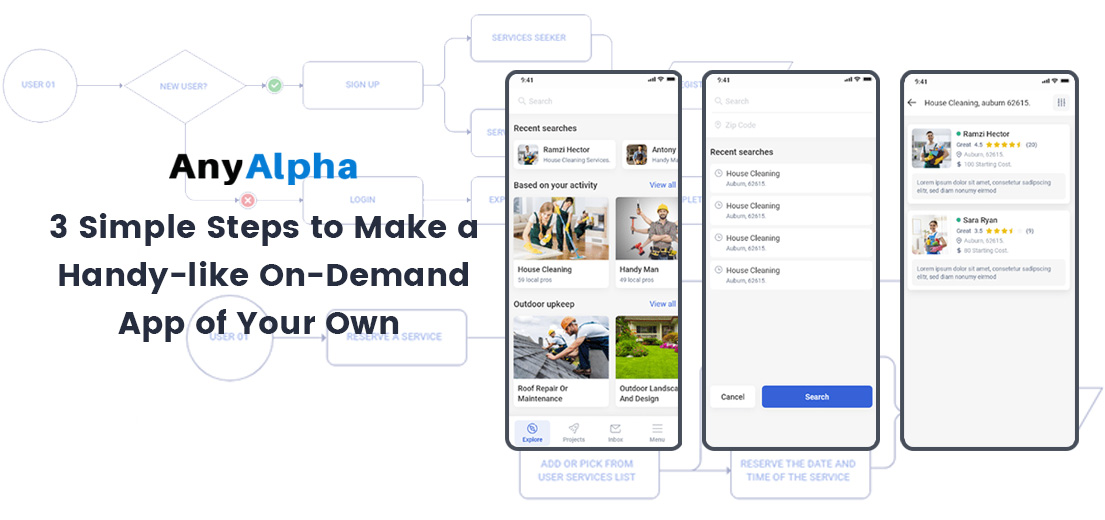 The following three simple rules can serve the role of your guidelines to develop an on-demand application as successful and functionally rich as Handy. The first phase in this step is requirement analysis, which primarily focuses on what problem you wish to provide the solution to.
1. Invest time in a thorough research
The Handy app originated because its founders wanted to ease out the hardships associated with finding high quality handyman services at an affordable price.
Identifying an existing problem and researching on it to come up with a solution would take you to the next phase in this step, which is finding your target audience and capitalizing on them appropriately.
If your target audience is in the rural setting, for example, the chicken farm owners; you might want to keep the prices low and simplify the technicalities as much as possible.
On the other hand, a target audience based in the urban setting would require you to be bulletproof with your technical policies and terms of service, but you might charge them more.
2. Lay out a detailed blueprint
You need to brainstorm multiple times with your team, and put forward the list of all the required features and characteristics to incorporate in your on-demand app.
The aptitude to analyze all the technical outcomes well in advance is desirable here, as introducing a completely new feature later on would not be cost effective, since integrating a new characteristic with the rest of the aspects takes time and resources.
Some important parameters to discuss with your team are:
a. Whether you want your on-demand app to offer a pool of services, or a single service in different varieties?
b. Would you want to sustain 24/7 services?
c. What's the approximate budget estimation of your app?
d. How many people could you potentially reach through your services?
e. Will the customer support be email based, phone call based or both?
f. Should you put safety restrictions on new service providers?
g. Would you accept just debit cards? Or both: debit and credit cards? Can you incorporate payment interfaces like PayPal too?
Remember; "detailed" is the keyword here. The more you use your brain in this step, the less you'd lose money on fixes and patches down the line.
3. Design and Technical implementations
After cost estimation, and laying out the complete app blueprint with finalized features, you'll have to leave the task of technical implementation to the professionals.
There are many mobile app developers who charge an affordable hourly fee — they're usually the first choice of the start-up owners.
Another decision you'll have to make is if you want your app to be deployed on both the platforms — Google Play Store and App Store — or just a single one.
By and large, if you have any queries related to on-demand services based app development, feel free to contact us.
Please bookmark, like and share this webpage if you found it informative, and your feedback is always welcome!