Develop An On-Demand App Like Uber
The ultra-popular Uber app works on the on-demand model, and it connects customers to taxi drivers who help them reach their intended destination!
Uber is estimated to have over 93 million monthly active users worldwide! How did it get so popular?
We'll dive deep into the same in this article. Let's get on with it!
The Popularity of The On-Demand Model!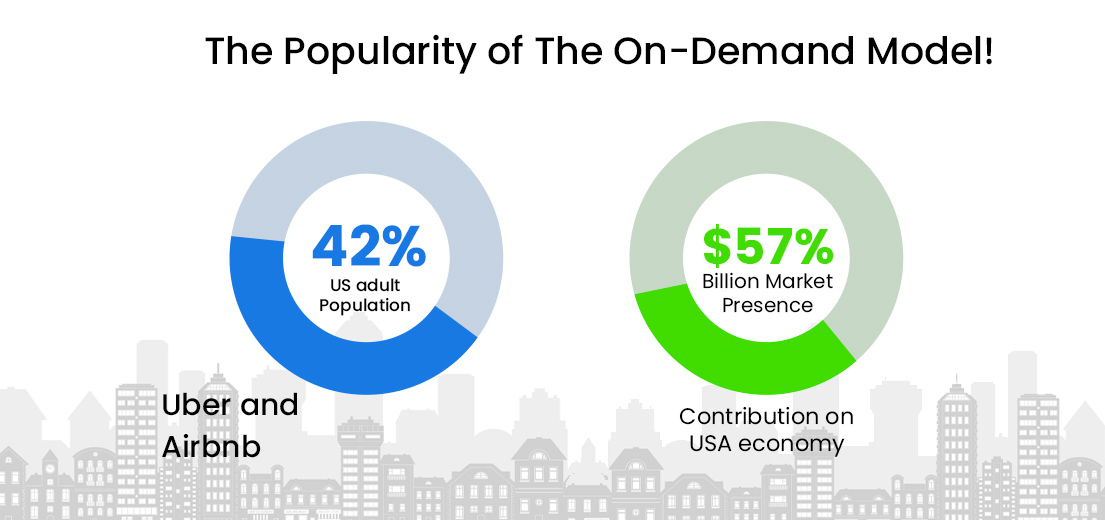 The on-demand paradigm is no longer a competition for the traditional business paradigms; it, in fact, has absolutely taken over!
Rose to the top with the start-up companies such as Uber and Airbnb, the entire on-demand economy has outstretched itself to more than 42% of the total US adult population — which amounts to the north of 88 million people as of today!
With its speed, quality, and convenience on-demand business model has quickly become the first-choice option for both budding entrepreneurs and seasoned business people looking to travel online.
Omnichannel presence is more vital than ever today, it not only promises business from all sources but also provides a chance for cross-channel sales, and this is often where most on-demand business models show their USP.
A dynamic economy brings about ever-changing trends. Having a staggering $57 billion market presence, on-demand solutions give immediate gratification to consumer demands. This drives more revenue for businesses as an on-demand model provides an omnichannel presence and promotes cross-channel sales.
Passenger App Features for Uber-like App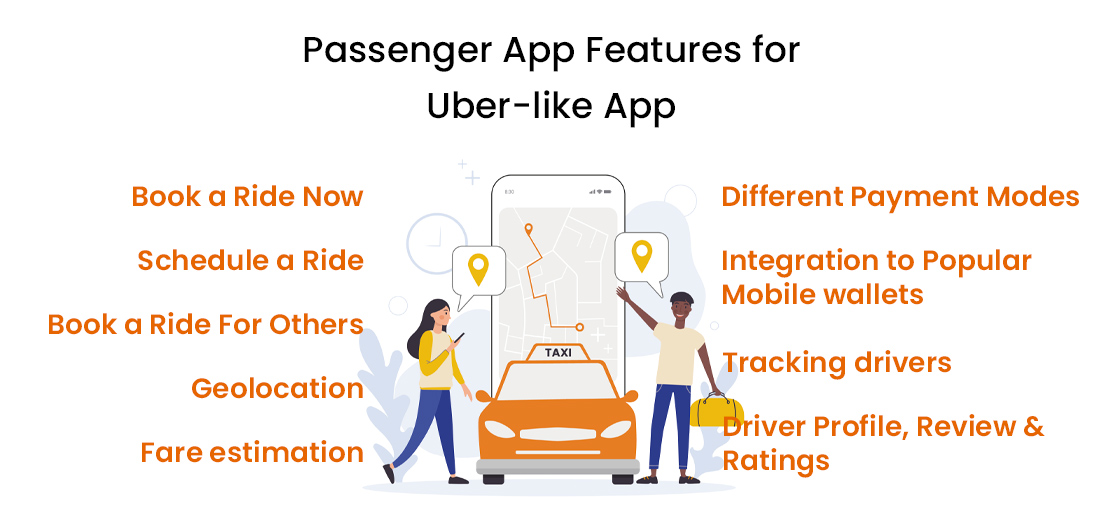 Let's have a look at the features of the passenger mobile app:
1. Book a ride now
The most essential and basic feature of an on-demand taxi mobile app may be a "Book a Ride Now" feature.
With this feature, your passengers can book their preferable ride instantly. The passengers got to select their pick-up location, their destination location and therefore the sort of taxi they're looking to rent.
2. Schedule a ride
Your passengers value tons if they know you value their time. Hence, this advanced feature like, "Schedule a ride" in your cab service app, ensures your passengers don't get to wait for their cab to arrive.
A killer user-experience feature for an Uber-like on-demand cab service app!
3. Book a ride for others
Unexpected things can happen at any time, anywhere. Being into the cab booking industry, you would like to be prepared for this.
Allow your passengers to assist one another by booking a cab for others with this feature. You won't fail as a business owner; we assure you that.
4. Geolocation
Allow your passengers to pinpoint where they need their drivers to be picked up and dropped off with this geolocation feature.
Any on-demand mobile app fails without this feature. So, confirm you think about this while developing an Uber-like on-demand app.
5. Fare estimation
When your passengers are looking to book a ride now or later, provide them with the fare estimation supported by the sort of auto and therefore the destination location they choose.
This fair estimation feature helps your passengers' skills much they might get to buy their ride.
6. Different payment modes
Every customer has different preferences regarding the sort of payment they need to form. It might be either cash, using mobile wallets or credit/debit cards.
Provide as many payment modes as you'll to your customers to form sure they're happy riding with you
7. Integration to popular mobile wallets
Today, most product or service-based eCommerce businesses support mobile wallets that are quite famous among their existing customers and prospects.
Hence, it's advisable to integrate the most popular mobile wallet apps to permit your passengers to form payments in their preferable wallets.
8. Tracking drivers
Today, one of the foremost important features for an on-demand app is to trace their driver or delivery.
This feature provides real-time tracking of a driver which helps your passengers to understand what proportion of time will it deem their drivers to succeed in. Needless to mention, this feature enhances your customer experience to an excellent extent.
9. Driver profile, review & ratings
People don't wish to travel with strangers. Being into the cab industry, you would like to value the likings of your customers. Hence, allowing your passengers to look at the general public profile of your drivers, their reviews, and ratings.
Looking at the driver's profile, your customers will come to understand how good their driver is. Also, supported by the experience of their trips, your passengers can provide reviews and ratings to the drivers they've traveled with.
10. Multiple drop-off points
People like to share their rides with their friends and colleagues falling within the same route. For such passengers, having a feature like multiple drop-off points can encourage people to settle on your Uber-like app compared to your competitors'.
Allow your passengers to feature, edit or remove the multiple drop-offs even while traveling. This feature can make your app the foremost favorite among your customers.
11. Panic Button (SOS)
Today, safety has become an enormous concern, and other people want every business to worry for them in every way possible.
Uber has this feature, which is definitely accessible on the house screen.
This feature allows customers to attach with the primary responders whenever they have emergency assistance during their trip.
Hence, it becomes vital for you to possess this push button in your on-demand taxi app.
Driver App Features for Uber-like App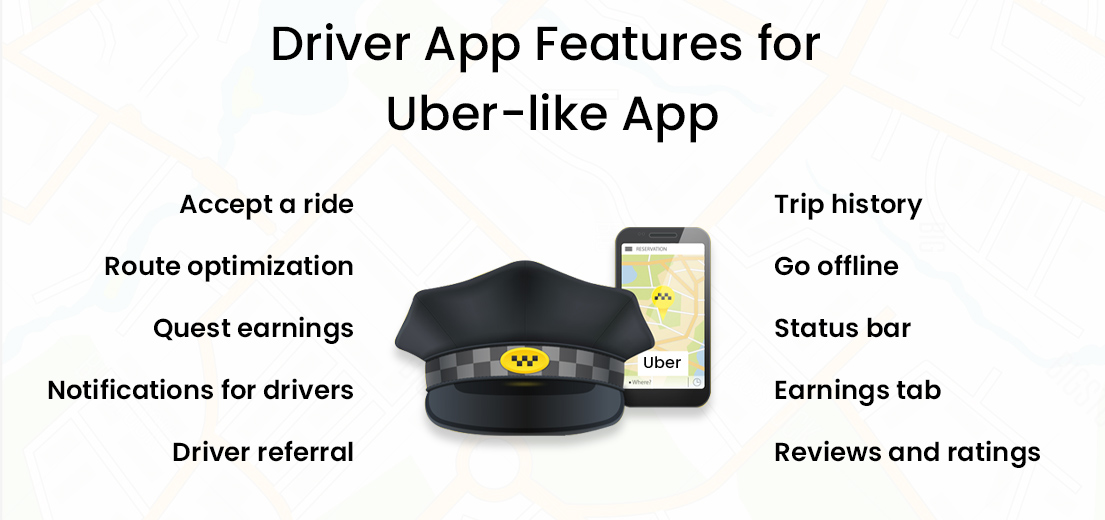 Let's have a look at the features of the taxi driver mobile app-
1. Accept a ride
The drivers have the choice to simply accept a ride whenever they receive the ride requests.
During their existing trips or looking for trips, whenever the driving force gets a visit request, the driving force has the choice to either accept it or reject it.
Your Uber-like driver app must have this feature.
2. Route optimization
Route optimization is one feature of the Uber-like cab booking app that helps the drivers to require the simplest route to succeed in a destination faster.
This feature of the driver's mobile app allows the drivers to vary their navigation to require the foremost efficient route.
3. Quest earnings
Uber has this feature named, "Uber Quest" where the corporate allows their drivers to earn some extra money once they finish a pre-defined number of rides during a specific amount of their time.
You can consider it as some Quest Earning feature which you'll include as incentives for your drivers to remain productive and take up more rides.
This feature provides a win-win situation for both the corporate and therefore the driver.
4. Notifications for drivers
You must have a feature like notifications to supply some information on the newest feature upgrades, announcements, and more in your driver mobile app.
This feature provides quick access for the drivers to remain updated with the newest news by your company.
5. Driver referral
A driver referral may be a program that you simply can run to encourage your existing drivers to refer some more drivers to extend your driver database and grow your business.
You can make it easier for your drivers to refer new drivers through a feature in their mobile app.
6. Trip history
Your driver's mobile app must include a feature that showcases the history of the trips a driver has fulfilled.
For analyzing each of their trips and planning more trips can become easy for your drivers with this app feature.
7. Go offline
Allow your drivers to settle on when to require up rides and when to not. This is often only possible with a feature called "Go Offline."
Your drivers can tap on this feature to start out getting ride requests and tap this feature again to prevent getting the requests.
When your drivers have all the leisure to figure, they're going to enjoy working with you.
8. Status bar
The status bar is a complicated feature of an on-demand taxi app like Uber, where drivers get a standing whenever they enter during a busy area.
With this status bar, your drivers can choose whether or not they should continue going into that busy area or should stop.
9. Earnings tab
Earning tab within the driver's mobile app helps drivers to ascertain what proportion they've earned during a particular day, week or month.
Using this feature, drivers can plan their next day, week or month to grab more earnings.
10. Reviews and ratings
Just like the passenger app, the drivers' mobile app has the feature of reviewing and rating the passengers. It helps other drivers to know the passengers they're getting to pick-up and drop.
Uber's Technology Stack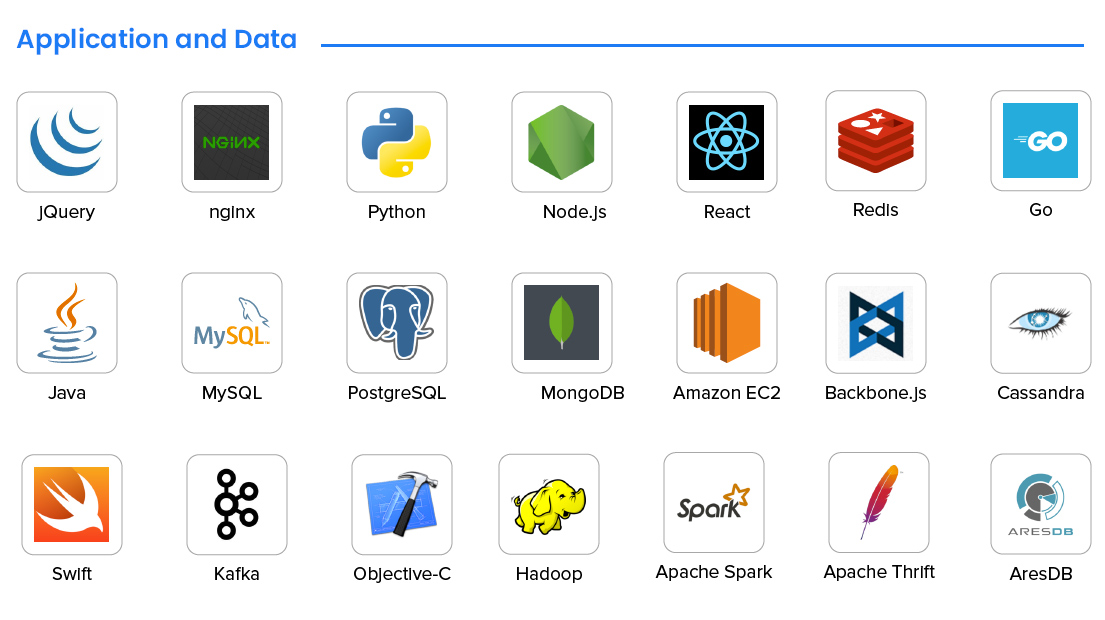 Uber uses the following programming constructs, data algorithms and technologies underneath its system to implement its first-rate functionality.
Application and Data:
jQuery
Python
js
React
NGINX
Java
MySQL
MongoDB
PostgreSQL
Redis
Amazon EC2
Kafka
Go
Swift
Objective-C
js
Cassandra
Apache Spark
Hadoop
Apache Thrift
RIBs
AresDB
Utilities:
Google Analytics
Elasticsearch
PayPal
Twilio SendGrid
Twilio
Mixpanel
Optimizely
Crazy Egg
TensorFlow
Heap
Braintree
HackerOne
DevOps:
Sentry
Grafana
Terraform
RequireJS
Prometheus
Puppet Labs
Nagios
Zookeeper
Graphite
Jaeger
Brunchuberalls
ZapM3
Makisu
Kraken by Uber
Peloton
Business Tools:
G Suite
Asana
Zendesk
Mattermost
OneLogin
iDoneThis
Delighted
Uber | A Case Study
What is Uber?
Uber, formally called Uber Technologies, Inc., is an American technology company. Its services include ride-hailing, food delivery (Uber Eats), package delivery, couriers, freight transportation, and, through a partnership with Lime, electric bicycle and motorized scooter rental.
The corporate is predicated in San Francisco and has operations in over 900 metropolitan areas worldwide. It's one of the most important firms within the gig economy.
Uber is estimated to possess over 93 million monthly active users worldwide. Within the US, Uber features a 71% market share for ride-sharing and a 22% market share for food delivery.
Uber has been so prominent within the sharing economy that changes in various industries as a result of Uber are mentioned as uberization, and lots of startups have described their offerings as "Uber for X".
Founders of Uber
Uber was founded in 2009 by Garrett Camp, who is a Canadian billionaire entrepreneur and Travis Kalanick, an American businessman.
Areas served
Uber provides its services in 69 countries, spanning over 900 metropolitan areas!
As per their homepage:
"Get to your destination in more than 10,000 cities. If you're going to an airport, see all airports where Uber is available (a list of 500+ airports)."
Suggested: How Much Does It Cost to Create a Music App like Spotify?
Controversial Male vs. female driver earnings
Data analysis found that male drivers earn about 7% more than women; men were found to drive on average 2.5% faster, making them to serve more customers.
Women passengers gave tips averaging 4%, while men gave 5%; but women drivers received more tips—so long as they were below 65 years of age.
Subsidiaries of Uber
Uber Eats: Uber Eats is an American online food ordering and delivery platform launched by Uber in 2014 and based in San Francisco, California.
Careem: Careem is a vehicle for hire company that is a subsidiary of American company Uber. It is based in Dubai, with operations in over 100 cities in 15 countries in the Middle East, Africa, and South Asia. The company was valued at over $2 billion as of 2018.
Postmates: Postmates is an American food delivery service owned by Uber that offers local delivery of restaurant-prepared meals and other goods. As of February 2019, Postmates operates in 2,940 U.S. cities. The service, launched in 2011 relies on mobile phone applications to match inventories and consumers.
JUMP: Jump is an electric bicycle and scooter sharing facility, serving in the United States, New Zealand, Canada, France, Germany, Portugal, the United Kingdom, Mexico, and Australia.
Jump bikes are bright red/orange colored vehicles, which can be unlocked using the Uber app. You're charged for using Jump bikes subject to the duration for which you keep the vehicle under your possession. You can pay off the charges through your Uber account.
Uber acquired Jump in April 2018, and augmentation into European markets began in June.