Our Services

Frameworks and Tools

We have a team which comprises of mavens in this domain and apps that we have developed received highly positive reviews from our clients and users as well. Our focus remains on the user interaction through the app and development of user-friendly interface.
React Native
Right from designing an intuitive UI, developing cross-platform mobile apps for Android, iOS, and other platforms to customizing the mobile application, our React Native services cover the entire gamut of development. Our experts have a strong understanding of React Native API library to fast-pace development. Whether reengineering existing legacy mobile app or migrating it to React Native with improved UI and UX, our experts have the capabilities to modernize your mobile application in all aspects. We leverage all the great features of React Native to help you develop intuitive cross-platform mobile applications. Our development capabilities use a single codebase shared between different platforms enabling faster time to market with shorter development cycle and faster development times.
iPhone App development
Making your app compatible with iPhone takes the level of usage to a very high level. Considering the number of iPhone users which is steadily increasing, it gives you many more advantages when it comes to spreading your business through mobile apps. We take care of technicalities that go into this and make your app not just compatible but also very productive on this platform. Our developers have the knowhow and the vision to represent your brand on iPhone in the most adaptable manner for every user.
Android App development
Apache Cordova is an open-source mobile development framework. It allows you to use standard web technologies - HTML5, CSS3, and JavaScript for cross-platform development. Applications execute within wrappers targeted to each platform, and rely on standards-compliant API bindings to access each device's capabilities such as sensors, data, network status, etc. The Cordova-enabled WebView may provide the application with its entire user interface. On some platforms, it can also be a component within a larger, hybrid application that mixes the WebView with native application components. Plugins are an integral part of the Cordova ecosystem. They provide an interface for Cordova and native components to communicate with each other and bindings to standard device APIs. This enables you to invoke native code from JavaScript.
React Js
The open-source HTML5 development framework, used to build hybrid mobile applications offers a plethora of advantages such as an increase in development speed and platform support. It also handles UI interactions of applications with the backing of native mobile components and beautiful design. In addition to this, Ionic focuses on UI interactions and look and feel of an app. Having an elegant and functional user interface, Ionic also offers a light theme and a dark theme for mobile applications. Best typography, mobile components, an extensible base theme, and interactive paradigms are some of the interesting features offered by Ionic.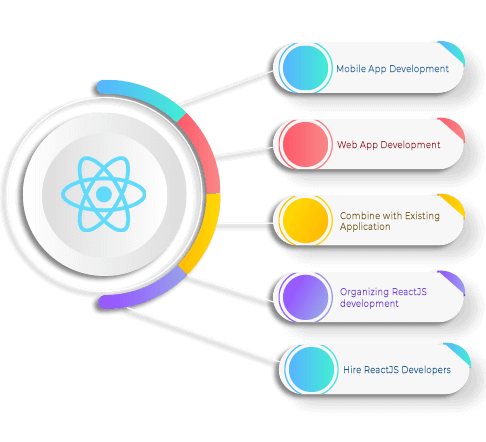 ROR development
Apache Cordova is an open-source mobile development framework. It allows you to use standard web technologies - HTML5, CSS3, and JavaScript for cross-platform development. Applications execute within wrappers targeted to each platform, and rely on standards-compliant API bindings to access each device's capabilities such as sensors, data, network status, etc. The Cordova-enabled WebView may provide the application with its entire user interface. On some platforms, it can also be a component within a larger, hybrid application that mixes the WebView with native application components. Plugins are an integral part of the Cordova ecosystem. They provide an interface for Cordova and native components to communicate with each other and bindings to standard device APIs. This enables you to invoke native code from JavaScript.
AnyAlpha: A Technology-Driven App Development Company
With a dedicated focus on the latest technologies, we always strive to deliver world-class customer service.
Hire Web Developer
The taxi management system we offer to businesses. For the food and beverage industry too, the times of paper menus and long waiting queues is far gone. The food delivery innovation upheaval has hit the market, wherein a wide range of mobile applications have made it possible for clients to have their most favorite restaurant meal from the comfort of their homes.
Why Choose

Us?

We are committed to transforming businesses, shaping the future of innovation and technology to drive human progress.

Expertise
We hire only the best-certified developers who are experts in what they do and ensure timely delivery of quality services.

Efficiency
Hiring a dedicated developer/team will save you not only time but will also be cost-effective and give you efficient results.

Competitive Prices
We assure to provide the best in class services for competitive prices because customer satisfaction is our major priority.

Comprehensive Support
You can easily track the progress of your project and get instant help with our 24*7 comprehensive support team available for you.
Have an App Idea?
Convert your App Idea into a Profitable Business.
Whats Our Client Says
"We greatly appreciate the exceptional support you and your team gave us during the launch time. Very impressive and heartfelt thank you to the entire team."
"AnyAlpha is the best IT service provider company in the business. They delivered an app with a very user-friendly interface in the decided period of time with a diligent team in place always ready for support. Highly recommended for app creation !!"
"I chose AnyAlpha because they were highly recommended by a dear friend. And today as I write this, I must say I am very happy that I made the right decision. Anytime we were stuck or faced any issue we got instant support. Also, the team is highly professional and considerate of the client's needs and requirements. Thank you for the amazing service."
Latest Blog
React vs Angular vs Vue:
Which Framework to Choose in 2021
Many developers have faced a consequence while choosing the framework. The question gets tricky with a lot of options and variations in the software...
Android Apps List
Top 10 Must-Have Android Apps In 2021
Do you know there are more than 3.5 million apps on the Google Play Store which makes it extremely hard to make the right...