Agile Mobile Application Development Services
AnyAlpha offers mobile app development services that are best suited for all needs and requirements like apps for android, IOS, Cross-Platform, Hybrid, and Native platforms. Development of a mobile app is not a very difficult task these days. But, ensuring that the app is user-friendly and automated is where the challenge lies. So, to keep up with the ever-evolving market trends we have a team of developers who are experts at what they do. And not only this, before the final submission of any app, we make sure that it goes through multiple trials to eliminate any type of bugs and errors.
iPhone App Development
Making any IOS application is not an easy task as it requires a very high level of programming and technicalities. But we love to play with challenges and so, we ensure the apps developed by our developers are compatible with IOS along with advanced features and technology to help your brand reach new heights. Client satisfaction is our topmost priority.
iPad App Development
Developing apps that are compatible with the iPad is equally important and a mandate because in today's time because iPad is as popular as Android and IOS. And if we look at the statistics, iPad users are increasing rapidly with each passing day which makes it imperative for businesses to have and showcase their presence on this platform as well. iPad apps are also a part of our services and we make sure to provide you with the most fluid and impactful end- product. Our developers ensure to use every bit of the latest and advanced technologies compatible with iPad to cater to your needs and requirements.
Apple Watch App Development
App Watch is not a luxury anymore, on the contrary, it's userbase is increasing more than ever with every passing day now. Therefore, making an app that is not only compatible but also caters to need the need of the end-users is a very far-sighted idea. With this aim in mind, we ensure that once the app has been developed it undergoes multiple trials to eliminate any loophole and fix all the bugs and errors if any. By entering this segment for your business, you can leverage the target audience by acquiring the market area and yield good results.
React Native App Development
React Native is a type of framework that is based on Javascript library and nowadays widely used for the purpose of building user interfaces. This is widely used for building single pages and mobile applications. As IT service providers, we make sure that the most advanced and latest technology is employed in every single application project. And so, our developers have mastered this area of interest because of which we proudly claim that we deliver the most efficient mobile applications to assist you to reach sky heights.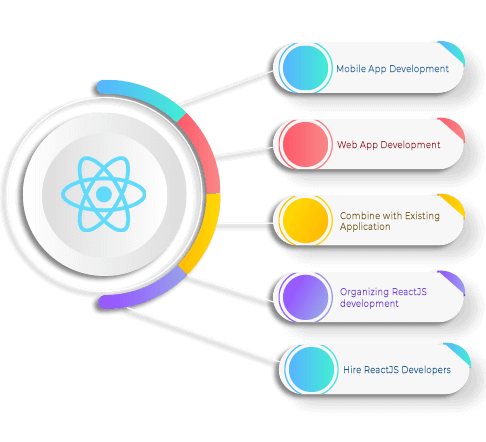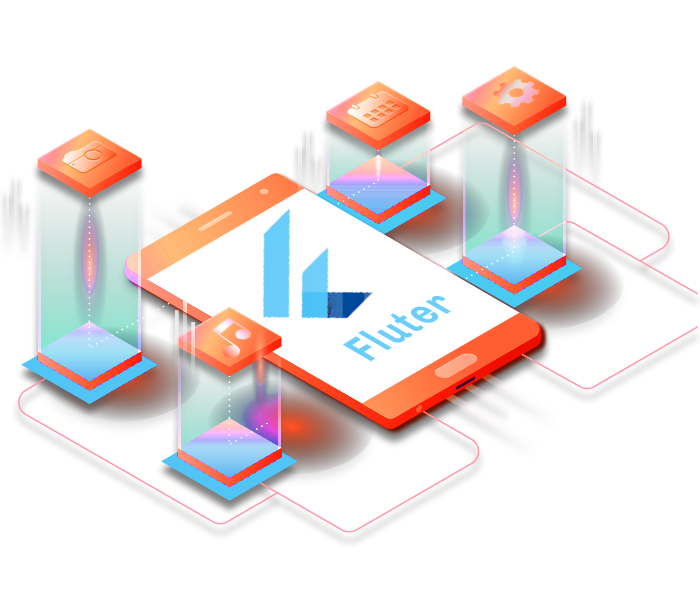 Flutter
Flutter is more of a software development kit than a mobile app development framework that is popular for faster coding. Flutter is an app SDK for building high-performance, high-fidelity apps for iOS, Android, web (beta), and desktop (technical preview) from a single codebase. Flutter includes a modern react-style framework, a 2D rendering engine, ready-made widgets, and development tools. These components work together to help you design, build, test, and debug apps. Everything is organized around a few core principles. Apart from being a cross platform framework, Flutter also allows developers to modify old widgets & create new widgets effortlessly. Its best Features are a flexible UI, native performance, fast development, and cross-platform framework.
Bluetooth Low Energy Development
Developing mobile apps for windows is a definite way to reach the masses without a doubt. This platform is still used by a majority of people and it becomes relatively easy to find a niche for the app. And, so we offer app development for Windows as well to assist you to make your app available on all possible platforms. Opt for this service to ensure you don't miss out on any single opportunity to grow and expand your business.
Android App Development
We develop android apps to cater to the needs and demands of the client. Excellence when combined with expertise, gives nothing, but the best outcome. Our priority is to cater to the needs of the client by ensuring the end result matches all the parameters given by them like a user-friendly interface, serves the target audience with the purpose of the app. And to ensure this, we leave no stone unturned in terms of research and development. We go the extra mile to make sure that we deliver more than what is expected.
AnyAlpha: A Technology-Driven App Development Company
Profit-driven apps to trend-setter mobile applications
Hire Mobile App Developer
Developing a mobile app is a time-consuming process. It may take up to weeks or months depending on a variety of factors like features needed, chosen framework, investment, and so on. But at AnyAlpha, you can be sure of getting quality work in time. With our team of dedicated developers, you will not have to worry or ensure constant supervision, instead, you can be rest assured that your project is our top-most priority and you will get a bug and error-free mobile app.
Have an App Idea?
Convert your App Idea into a Profitable Business.
Why Choose

Us?

We are committed to transforming businesses, shaping the future of innovation and technology to drive human progress.

Expertise
We hire only the best-certified developers who are experts in what they do and ensure timely delivery of quality services.

Efficiency
Hiring a dedicated developer/team will save you not only time but will also be cost-effective and give you efficient results.

Competitive Prices
We assure to provide the best in class services for competitive prices because customer satisfaction is our major priority.

Comprehensive Support
You can easily track the progress of your project and get instant help with our 24*7 comprehensive support team available for you.
Whats Our Client Says
"We greatly appreciate the exceptional support you and your team gave us during the launch time. Very impressive and heartfelt thank you to the entire team."
"AnyAlpha is the best IT service provider company in the business. They delivered an app with a very user-friendly interface in the decided period of time with a diligent team in place always ready for support. Highly recommended for app creation !!"
"I chose AnyAlpha because they were highly recommended by a dear friend. And today as I write this, I must say I am very happy that I made the right decision. Anytime we were stuck or faced any issue we got instant support. Also, the team is highly professional and considerate of the client's needs and requirements. Thank you for the amazing service."
Latest Blog
React vs Angular vs Vue:
Which Framework to Choose in 2021
Many developers have faced a consequence while choosing the framework. The question gets tricky with a lot of options and variations in the software...
Android Apps List
Top 10 Must-Have Android Apps In 2021
Do you know there are more than 3.5 million apps on the Google Play Store which makes it extremely hard to make the right...