Mobile Application Development Services
To have a better market presence and reach among customers, mobile apps have become an important part of businesses. We at AnyAlpha have long experience in providing result-driven mobile app development services across several industries to give them a reason to grow in the highly competitive marketplace. Our developers can develop a custom strategy as per your needs and unlock the full potential of mobile app development for your company.
Our Agile Mobile App Development Services Include
Being a mobile app development company, we at AnyAlpha offer customized mobile app development services to assure that businesses achieve desired user retention rates using our top-notch mobile apps.
iPad App Development
The popularity of the iPad is not less than Android and iOS, and that's why it becomes important to develop mobile apps which are compatible with the iPad. Even if we look at the stats, we found that iPad users are rapidly increasing and it's time for businesses to have an active presence on this platform.
IPad apps are also an important part of our mobile app development services and we ensure impactful end-products which satisfy your business requirements using our expertise in advanced technologies.
Apple Watch App Development
Apple watches are one of the most trending gadgets among users and their user base is continuously increasing. That's why developing apps for Apple watches is a great idea to acquire benefits of this industry, but the thing is that it is not as easy as we think.
Being a reliable mobile app development agency, we have a team of skilled developers who develop top-notch apps for Apple watches to cater to its advanced requirements.
React Native App Development
React Native is a type of framework that is based on Javascript library and nowadays widely used for the purpose of building user interfaces. This is widely used for building single pages and mobile applications. As IT service providers, we make sure that the most advanced and latest technology is employed in every single application project. And so, our developers have mastered this area of interest because of which we proudly claim that we deliver the most efficient mobile applications to assist you to reach sky heights.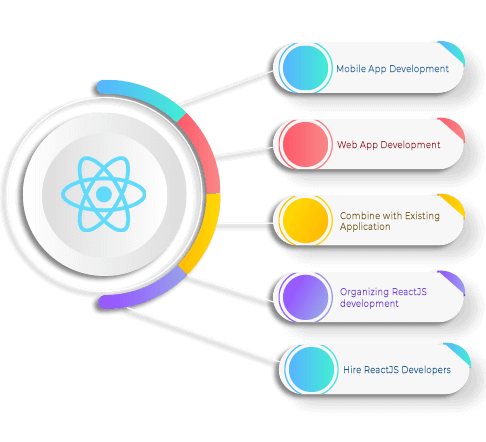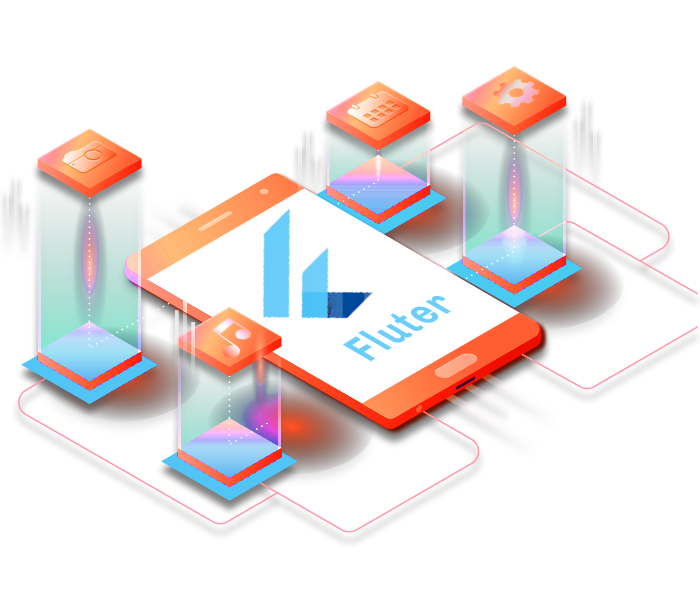 Flutter
Flutter is more of a software development kit than a mobile app development framework that is popular for faster coding. Flutter is an app SDK for building high-performance, high-fidelity apps for iOS, Android, web (beta), and desktop (technical preview) from a single codebase. Flutter includes a modern react-style framework, a 2D rendering engine, ready-made widgets, and development tools. These components work together to help you design, build, test, and debug apps. Everything is organized around a few core principles. Apart from being a cross platform framework, Flutter also allows developers to modify old widgets & create new widgets effortlessly. Its best Features are a flexible UI, native performance, fast development, and cross-platform framework.
Windows App Development
Developing mobile apps for windows is a definite way to reach the masses without a doubt. This platform is still used by a majority of people and it becomes relatively easy to find a niche for the app. And, so we offer app development for Windows as well to assist you to make your app available on all possible platforms. Opt for this service to ensure you don't miss out on any single opportunity to grow and expand your business.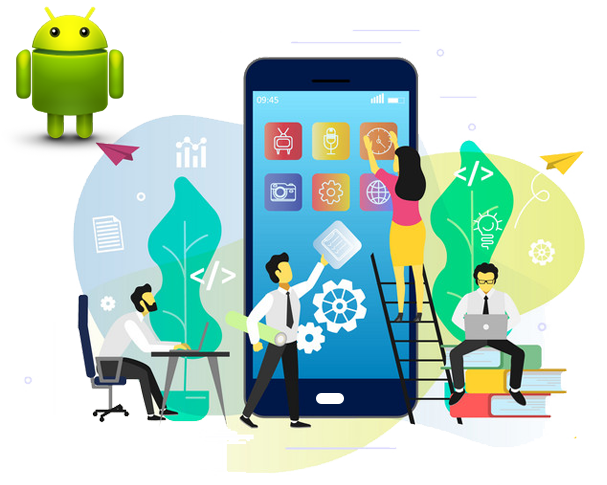 Android App Development
We develop android apps to cater to the needs and demands of the client. Excellence when combined with expertise, gives nothing, but the best outcome. Our priority is to cater to the needs of the client by ensuring the end result matches all the parameters given by them like a user-friendly interface, serves the target audience with the purpose of the app. And to ensure this, we leave no stone unturned in terms of research and development. We go the extra mile to make sure that we deliver more than what is expected.
Cross-Platform App Development
At AnyAlpha, our developers have huge expertise in developing reliable, advanced, and feature-rich cross-platform apps which are compatible with multiple platforms like Android, iOS, Windows, and more. Our major motive behind developing such apps is to enhance the reach of our clients among a mass audience and with a single app they can easily target an audience of multiple platforms.
Enterprise App Development
Enterprise app development is a complex procedure of developing apps for business purposes and our developers are highly experienced in taking difficult challenges and delivering successful outcomes. Our developers create customized and top-notch enterprise apps to fulfill client's business requirements. These apps allow businesses to effectively engage with customers and employees.
AnyAlpha: A Technology-Driven App Development Company
Profit-driven apps to trend-setter mobile applications
Hire Mobile App Developer
Developing a mobile app is a time-consuming process. It may take up to weeks or months depending on a variety of factors like features needed, chosen framework, investment, and so on. But at AnyAlpha, you can be sure of getting quality work in time. With our team of dedicated developers, you will not have to worry or ensure constant supervision, instead, you can be rest assured that your project is our top-most priority and you will get a bug and error-free mobile app.
Have an App Idea?
Convert your App Idea into a Profitable Business.
Why Companies

Choose Us?

What makes us a leading mobile app development company is our expertise in using advanced technology to deliver revenue-generating custom mobile app solutions across different industries. Our major aim is to offer tailor-made mobile app development services which provide desired outcomes for businesses.

Skilled Developers
At AnyAlpha, we have a team of certified developers who develop outstanding and quality mobile apps to deliver the desired outcomes across different industries.

Wide Range of Services
Our expertise is not only limited to few services, rather we offer a wide range of services across different platforms to fulfill the growing needs of the clients.

Feature-Rich Apps
Our experienced and knowledgeable developers never compromise with the quality and functionalities of the apps and that's why the app developed by us contains advanced features and functionalities.

Affordable
We ensure top-class mobile app development services at affordable prices for startups and SMEs which allows them to get advanced and feature-rich mobile apps for their business.

Impeccable Record
We are known as the best mobile application Development Company just because of our successful and outstanding results across several industries for global leaders which help us in marinating 95% client-retention rate.

Support and Maintenance
Our support team is ready to help you anytime with innovative solutions for your queries. You can reach us anytime via different communication channels like Skype and Emails.
Mobile Apps That
We Create Are
Fast
We at AnyAlpha believe in developing mobile apps that are highly fast with optimum resource consumption. Our skilled app developers ensure the quality as well as the performance of the apps to make them more interactive and quicker.
Reliable and Scalable
The mobile apps developed by our experienced mobile app developers can easily fulfill the requirements of the clients and also run effectively on a different platform. For this, our developers maintain the scalability and reliability of the apps.
Highly Secure
To develop high secure mobile apps, our developers use advanced technologies and the latest security features with proper mobile app development services. Our major aim behind developing high secure apps is to deliver bug-free and high-performance apps to clients.
User-Friendly
Satisfying the customer's needs is the basic goal of our feature-rich mobile apps. Our skilled developers develop advanced mobile apps with an easy-to-use interface. It helps us in providing intuitive, simple, user-friendly, and easy-to-use mobile apps for customers.
Multi-Functional
We ensure a one-stop solution for our clients through our latest multi-functional mobile apps for cross-platform. With the use of such apps, users can easily perform multiple tasks from a single platform.
Quality Assured / Tested
Not only designing and development, but we also provide quality analysis and testing for our mobile apps. Our talented testing team checks the quality of the apps and performs testing to check their ability to easily work on different platforms without any error.
Whats Our Client Says
"We greatly appreciate the exceptional support you and your team gave us during the launch time. Very impressive and heartfelt thank you to the entire team."
"AnyAlpha is the best IT service provider company in the business. They delivered an app with a very user-friendly interface in the decided period of time with a diligent team in place always ready for support. Highly recommended for app creation !!"
"I chose AnyAlpha because they were highly recommended by a dear friend. And today as I write this, I must say I am very happy that I made the right decision. Anytime we were stuck or faced any issue we got instant support. Also, the team is highly professional and considerate of the client's needs and requirements. Thank you for the amazing service."
Latest Blog
Mobile app development:
Technology Growing Day by Day
If we talk about mobile app development, then they have contributed a lot to the rise of smartphones and other digital devices. Nowadays, many…
Why You Should Migrate Your App from Ionic
Cordova,PhoneGap to React Native
Previously, Ionic and Cordova used to be a reasonable alternative to native development. Now cross-platform technologies like React Native (RN) promise higher quality with…
1

Is it safe to share mobile app ideas with you?
Yes, being a trusted mobile app development firm it is safer for you to share your app idea and business requirements with us. We also sign a non-disclosure agreement with our clients to give them assurance regarding their app idea.
2

How can I choose a platform for my mobile app development?
The decision of the mobile app development platform depends on your app idea and business requirements. By answering the questions like who is your targeted audience, what are the user's expectations from your app, your budget, and features you require in the app?
By answering these questions, you can easily decide the best platform for your mobile app development.
3

How much does it cost to develop an app?
Without knowing your mobile app idea and business requirements, it's highly difficult to calculate the exact cost of the app development. To know your app development cost, you can contact us anytime with your app idea and business needs.
4

Why choose AnyAlpha for mobile app development services?
The delivery of top-rated apps across several industries makes us one of the trusted mobile app development services providers. Our skilled developers use emerging technologies and tools to deliver customized mobile app solutions across different platforms. We ensure top-rated, reliable, feature-rich, and outstanding apps as per your requirements to give your business an edge over competitors.
5

Are the changes possible after the launch of the app?
Yes, you can contact us anytime for the changes even after the delivery of the mobile app. We provide the best solution for the issues you faced after the launch of the app.
6

How do you ensure the safety of the app and data security?
Our app developers integrate advanced technologies and security features to ensure the safety of the app as well as its data. Our development team runs the developed app on HTTPS with an SSL certificate to strengthen the app security.