DoorDash is by far the most treasured on-demand food delivery app of today's Americans. It connects customers to their favorite restaurants to have their food of choice delivered right at their doorstep.
Sounds plain enough, but why is it so popular?
As per a recent survey, nearly half the Americans prefer DoorDash to other food delivery apps. Surpassing Uber Eats and GrubHub, DoorDash recorded a whooping 4 million app downloads in just the past month!
In this article, we go in details about various relevant topics in regards to DoorDash to better understand what makes it so loved?
Let's get going with the first one:
What is DoorDash?
DoorDash is an on-demand food delivery service, which operates in Australia, Canada and the United States.
Launched in January 2013 as PaloAltoDelivery.com, DoorDash has not just taken part in the online food delivery market, it has actually taken over! DoorDash allows:
People to sign up and order food from restaurants and outlets nearby.
People to sign up and become food vendors, called "Dashers."
Restaurants to get registered with DoorDash so they are visible as an option to order from,in the DoorDash app.
According to a survey conducted by the customer research company Second Measure in 2019, DoorDash is the most pivotal on-demand food delivery service in the United States, ahead of giants like Uber Eats and GrubHub.
DoorDash's Recent Growth Statistics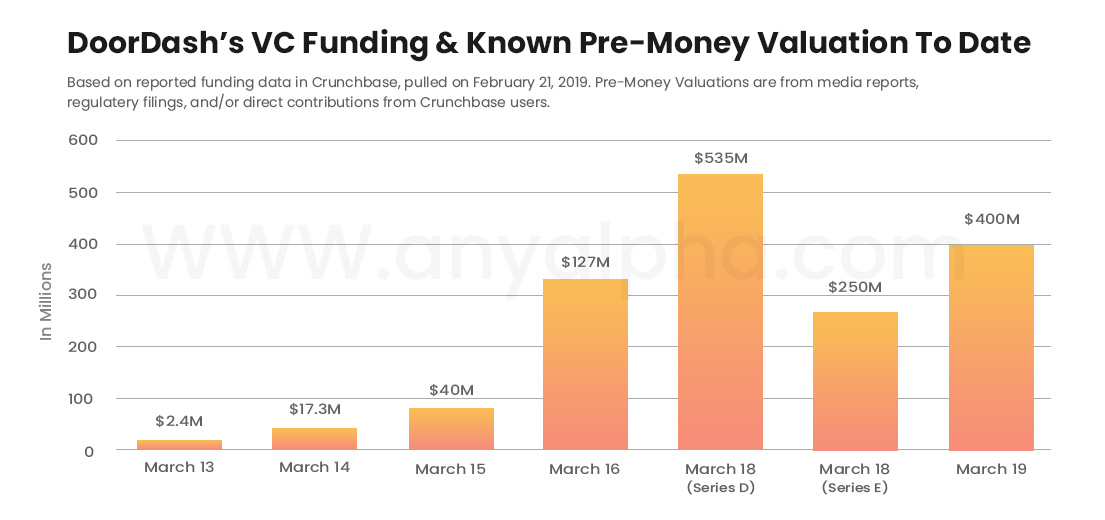 DoorDash has seen a rapid climb in the raw numbers ofdeliveries and earnings since its introduction in the food delivery market.
In December 2018, DoorDash overtook Uber Eats to attain the second position in totalfood delivery sales in the continental US; the first position was claimed byGrubHub.
In March 2019, DoorDash overtook GrubHub as well by outnumbering the latter in total sales. DoorDash single-handedly secured 27.6% of the entire sales in the on-demand delivery market in the US.
In August 2020, a survey revealed that about 46% of theon-demand food delivery apps users preferred DoorDash over other alternatives.
Integral Features of An App Like DoorDash
Features for the Customer's App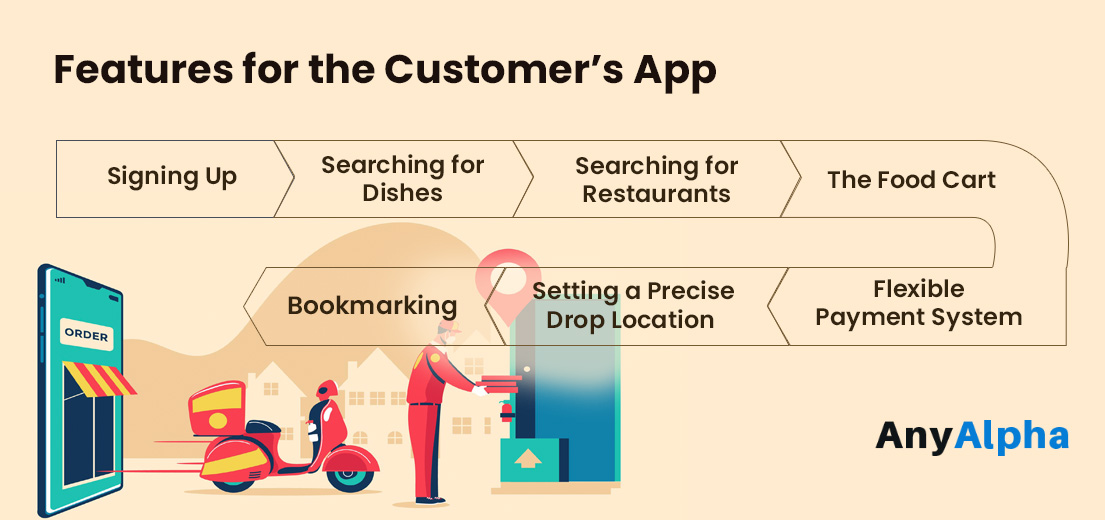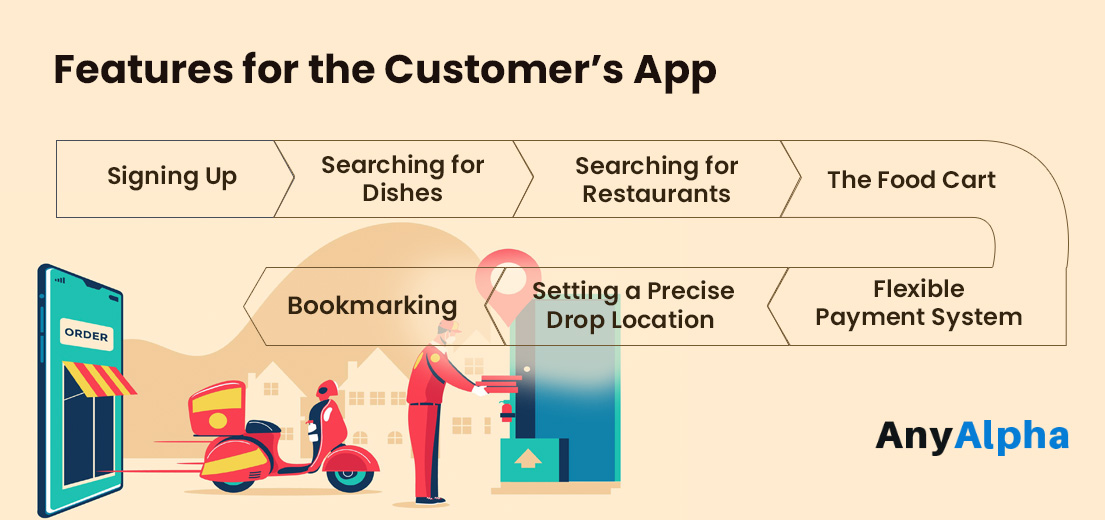 a. Signing Up
In any on-demand food delivery app like DoorDarsh, the customers should be able to create an account, so as to maintain the record of the previous bookings in an efficient way. The registration process shouldn't be too demanding, or it discourages sign ups.
The process of logging into accounts should be quick, keeping all the custom configurations intact.
b. Searching for dishes
There should be an option which enables the customers to search for a particularfood, dish or cuisine.
The search results that approximately match the entered keyword by the customers should also be displayed, as buyers might not know the exact spellings of a dish, especially of a foreign cuisine.
c. Searching for restaurants
Instead of searching for dishes, there should also be an option that lets the userssearch for restaurants and eateries.
Details such as menu, price, offers, discounts, ratings, etc. should be displayed alongside.It's always easier for the customers if your app has a filter option that allows the users to set their price or desired review range.
d. The Food Cart
The customers must be provided with options to quickly add, delete or change theirpreferred orders in the cart.
Along with the basic functionalities, the cart should also have other provisions,such as:
Allowing for increasing or decreasing the food item units.
Displaying the total price, inclusive of any applicable taxes
Option to cancel the order
Option to re-order a previously ordered item.
e. Flexible Payment System
Similar to what the DoorDash interface allows, in a good on-demand delivery mobile app, the customers must be given the freedom to choose from a list of payment gateways.
The flexibility to make the payment through a variety of options, such as debit, or credit cards, PayPal, cash wallets etc. makes your food delivery app more desirable.
f. Setting a precise drop location 
Theapp's back-end should implement a suitable GPS tracker to locate the right dropposition indicated by the customers.
Incorrect or inaccurate positioning systems can lead to a lot of hassle.
g. Bookmarking
This is an appealing feature that allows the users to save the information about arestaurant, or the specific dishes of a particular restaurant which theypersonally prefer.
This helps in building long term buyer-seller relations, which is one of the pillarsof any on-demand food delivery app.
Features for the Delivery Personnel App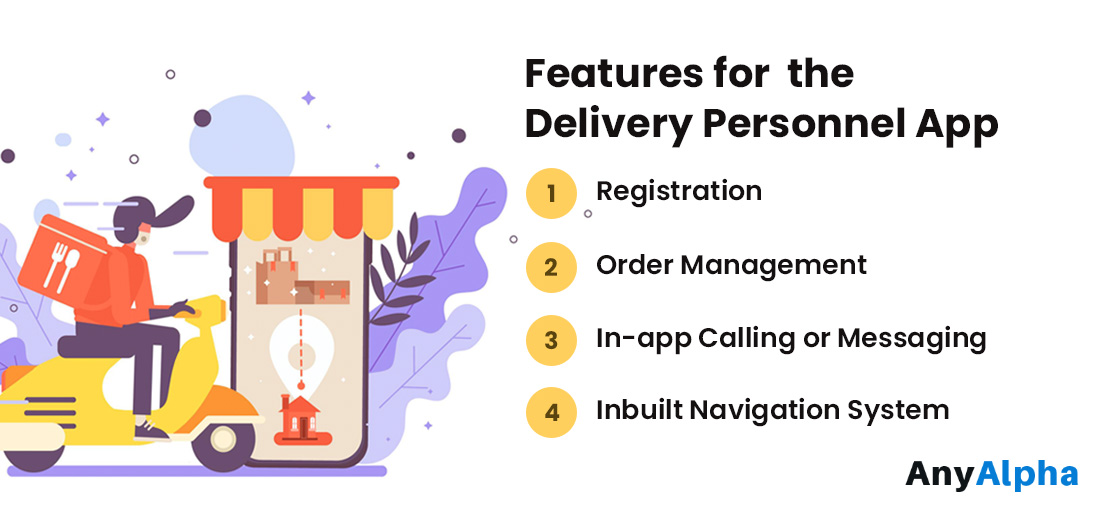 a. Registration
The food delivery workers must identify themselves with official documents, if required, before they are allowed to start making deliveries. The registration process must ask for their phone number, email address, home address, social media sites and identification proof.
b. Order Management
The prime feature from the service providers' point of view for any on-demand fooddelivery app is allowing them to accept a delivery.
Upon accepting a delivery, the delivery workers must have access to all thenecessary information regarding the order, such as the amount, drop location,pick-up location, deadline etc.
Another essential order management sub-feature is the capacity of a food delivery worker to cancel the order, in case he/she can't perform the delivery under the given constraints.
c. In-app calling or messaging
Any on-demand food delivery app like DoorDash must have an in-app messaging orcalling feature to connect the customers with delivery workers without havingto exchange any personal information.
The in-app communication mechanism allows for both the sides to better understandeach others' demands and requirements in real time.
It also helps them incorporate any changes in the delivery better.
d. Inbuilt navigation system
The food delivery agent shouldn't solely rely on third party apps, word of mouth,or their memory to reach the intended destination.
An inbuilt navigation feature must be provided to them which will serve as adirective guideline displaying the entire route from the pick-up to thedrop-off location.
Features for the Partner Restaurant App
a. Registration
This standard feature must be available to broadly everyone using your on-demand food delivery app.
The partner restaurants must register with the app, providing crucial details such as their license, menu, pricing, working hours etc.
b. Admin Dashboard
A comprehensive aspect that should be present to the partner restaurants is their own admin panel.
It must let the restaurant autonomously manage the whole process — accepting or rejecting deliveries, black listing certain customers, knowing the details of the delivery workers, preferring certain delivery workers etc.
c. Managing Orders
Upon the reception of orders, the restaurant must have a provision to manage them.
They need features such as a clear description of the order, personal notes left by the customers, monitoring the status of the order, sending live updates, contacting the delivery agent when the order is ready to be picked up etc.
d. Updating the details
Incase of the restaurant's migration to a different location, or a change intheir official contact number or email; they must be allowed to change their communicationdetails in the app. Moreover, these details must be put into effectimmediately.
There should also be an option to reflect changes in other details, such as prices,menu, working hours, food images etc.
DoorDash | Case Study of One of The Most Influential On-Demand Apps
If an app performs well consistently, its creators and marketers must be doingsomething spectacular in every department, since in today's cut-throatcompetitive food delivery industry, poor decisions are rarely tolerated.
Let'shave a look at DoorDash's origins to know about it better.
A basic overview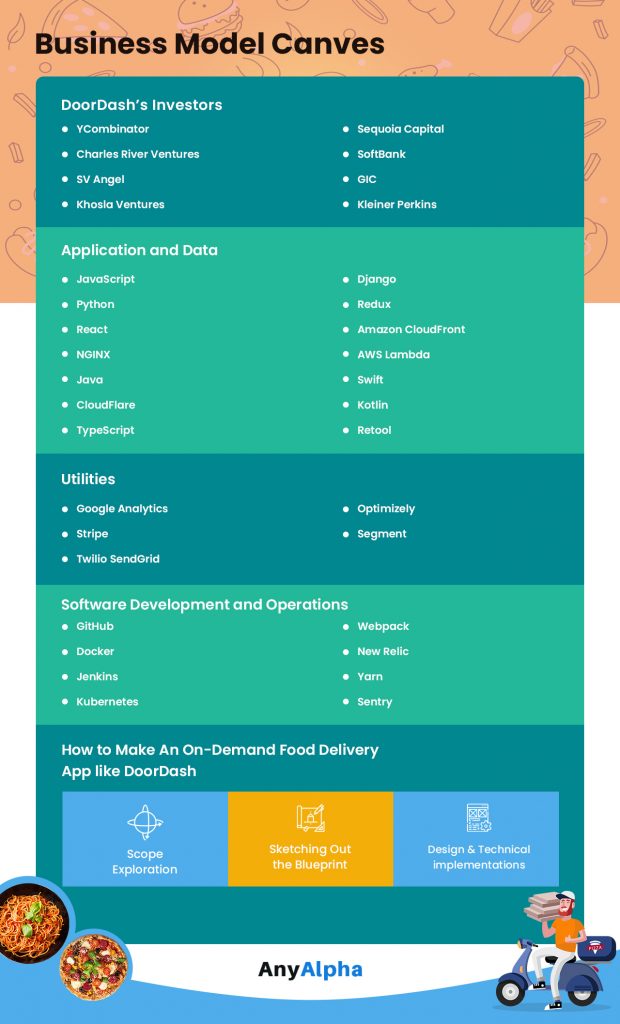 DoorDash is a food delivery platform which connectscustomers to restaurants and eateries, allowing them to order food online atany desired location.
Launched in Palo Alto, California inJanuary 2013 as PaloAltoDelivery.com, it currently serves in Australia, Canadaand the United States.
PaloAltoDelivery.comrenamed itself to DoorDash in June 2013 after receiving $120,000 in seedcapital from YCombinator, which is a US based seed money startup accelerator.
DoorDash was created by four classmates at the famous Stanford University in California, namely: Tony Xu, Stanley Tang, Andy Fang and Evan Moore.
Andy Fang currently holds the post of Director, along with Stanley Tang; whereas Tony Xu is designated as the CEO of DoorDash.Evan Moore has left DoorDash, and is now a partner at Khosla Ventures, which is an American venture capital firm.
DoorDash's Investors
DoorDashhas managed to raise a total of over $2.5 billion from several investors andinvesting firms, which are listed below:
YCombinator
Charles River Ventures
SV Angel
Khosla Ventures
Sequoia Capital
SoftBank
GIC
Kleiner Perkins
On January 2020, DoorDash became the largest food delivery market share holder inthe United States.
As of June 2020, DoorDash's post-money valuation was almost $16 billion, which ismassive for a start-up just 7 years old!
These high numbers, as per DoorDash, are a result of the investors' trust in their"versatility and vision."
DoorDash's Acquisitions
1. On the first of August, 2019, DoorDash announced the acquisition of Caviar at a price of $410 million.
Caviar is a food delivery service specializing in the delivery of food from expensive urban restaurants that typically do not offer home delivery services.
2. Later in the very same month — August of 2019, DoorDash released a public note informing the acquisition of Scotty Labs without disclosing the price.
Scotty Labs is a tele-operations startup firm that focuses on self-driving and remote-controlled automobile technology.
DoorDash's Technology Stack
Some of the back-end technologies, data analytic tools andprogramming constructs used by DoorDash are:
Application and Data:
JavaScript
Python
React
NGINX
Java
CloudFlare
TypeScript
Redis
Django
Redux
AmazonCloudFront
AWSLambda
Swift
Kotlin
Retool
Utilities:
Google Analytics
Stripe
Twilio SendGrid
Optimizely
Segment
Software Development and Operations:
a. GitHub
b. Docker
c. Jenkins
d. Kubernetes
e. Webpack
f. New Relic
g. Yarn
h. Sentry
Business Tools:
1. Jira
2. G Suite
3. AdRoll
How to Make An On-Demand Food Delivery App like DoorDash
The following three simple steps can serve as the role of guiding principles for you in creating DoorDash-like on-demand food delivery applications yourself.
A) Scope Exploration
You already know the purpose of your app — building up a database of restaurants, eateries and food stalls along with details like their menu, price, offers etc.
What is left to do is for you to explore the scope of your app, that is, its potential user reach.
Various aspects of the potential reach of your app, like demographics, age group, cuisine preferences, average annual income etc would shape your app's features.
If your target audience is in the rural setting, for example, the chicken farm owners; you might want to keep the prices low and simplify the technicalities as much as possible.
On the other hand, a target audience based in the urban setting would require you to be bulletproof with your technical policies and terms of service, but you might charge them more.
B) Sketching Out the Blueprint
You need to brainstorm multiple times with your team and come up with the list of all the desired and preferred features that your on-demand app food delivery app will be composed of.
The critical skill to evaluate all the technical outcomes well in advance is desirable here, as introducing a completely new feature down the line would not be cost-effective.
The integration of a new feature or characteristic with already existing characteristics takes time and resources.
Some important parameters to discuss with your team to sketch out your app's blueprint are:
How strict should your policies be for accepting a restaurant as your partner?
What would be the required skills of the delivery personnel?
What's the approximate budget estimation of your app?
Will the customer support be email-based, phone call based or both?
Should you put safety restrictions on new delivery personnel?
Would you make your own navigation system or borrow a third-party app's services?
Would you accept just debit cards? Or both: debit and credit cards? Can you incorporate payment interfaces like PayPal too?
Remember; "detailed" is the keyword here. The more you use your brain in this step, the less you'd lose money on fixes and patches later on.
Design and Technical implementations
After cost estimation, and laying out the complete app blueprint with finalized features, you'll have to leave the task of technical implementation to the professionals.
There are many mobile app developers who charge an affordable hourly fee — they're usually the first choice of the start-up owners.Another decision you'll have to make is if you want your app to be deployed on both the platforms — Google Play Store and App Store — or just a single one.