Big Brands Make Use of Progressive Web Apps
We are at a time where all the industries in the world are investing heavily in innovative web solutions allowing the website users to interfere with the website engagingly and smoothly. Most of the big brands from multiple industries from multiple industries have already embraced Progressive web Apps as the future. A progressive web app is a technology that engages businesses to build web applications that look and feel like native mobile apps. They enable almost all the features and specifications that the native app has.
Web browsers such as Chrome and Opera are already fully backing up PWA. At the same time, web browsers including Microsoft Edge, Firefox, and iOS are taking their best efforts and taking the necessary steps to accept PWAs.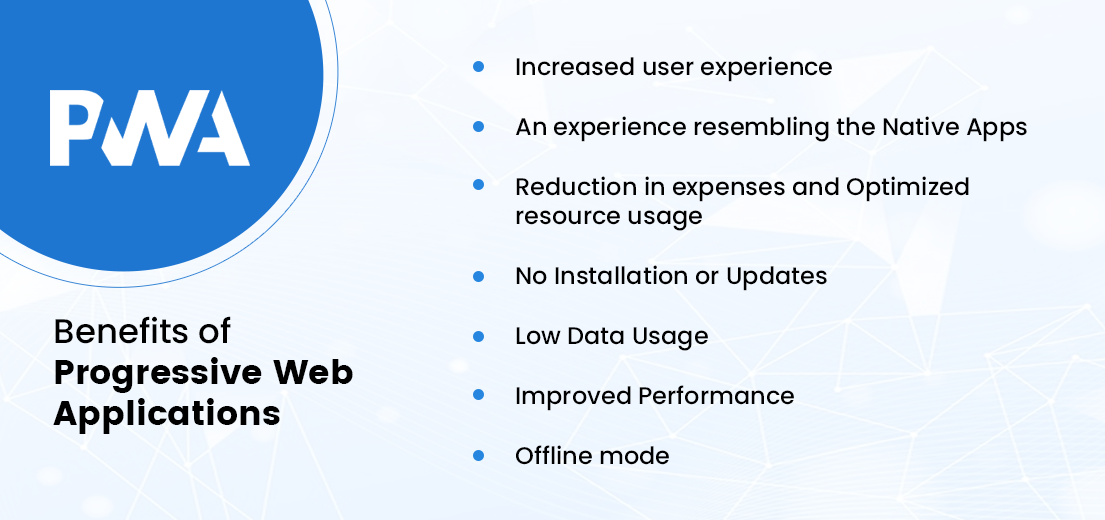 Below are a few of the benefits that the big brands are already experiencing when they use Progressive Web Apps.
Increased user experience
An experience resembling the Native Apps
Reduction in expenses and Optimized resource usage
No Installation or Updates
Low Data Usage
Improved Performance
Offline mode
App access via device home screen
No device storage
Now, let's discuss few of them in detail.
An experience resembling the Native Apps for the users
Progressive web apps are well recognized for their consistency and adaptability across devices. They are capable of providing almost all the functions that a native app provides.  Push notifications streamlined offline operations, and the list has many more such features. There are many website benefits of PWAs, most the common one being able to access from all the known web browsers. The native apps are available in the Google Play and the App Store, isn't it? You don't have to look far, you can download the PWAs of these big brands from the same platforms.
Reduction in Expenses and Use of Resources
Even the bigger brands consider cost-cutting as a pivotal business operation. Progressive Web Applications are single code-based applications and all the functionalities are running on that base itself. Companies that provide progressive web app development services can make use of this single code base to develop a responsive and interactive website. This app can be managed and maintained by one team, it needs only one platform, design, development approach, etc. PWA's save the cost of app design, and development also saves the maintenance cost. A single, one platform and a single development approach is all you need. This can save millions for the bigger brands that spend tons of money on native apps.
No Installation or Updates
Unlike native apps which have to be updated before launching, PWAs save the users from spending more data and time on making regular installments and updates. When the app is getting loaded, it will be updated just like the websites and you do not need any permissions from the App Store or Google Play for the updating process. Brand loyalty is very important for bigger brands. When the users realize that the apps launched by these companies are data-saving, it generates a positive idea in their minds.
Improved Performance
The users always prefer responsive apps which are going to save their time. Progressive Web Applications have better and faster loading times when considered with native apps. For SEO, the loading time is a very important consideration. This means when you are using PWA's, your chances of getting to the top ranks on search engines are higher and thereby you can reach many people. When swimming with the sharks, it's really important to stay on the top search engine ranks.
Offline mode
As the Progressive Web Applications use the cache memory and the prior interactions with the user, they will provide a better offline experience. Big brands always have the need to reach new audiences. It is a great opportunity for them to present their products and also services to a customer base that is not connected to the internet. Although the internet is a very common thing to us, there are certain areas in the globe that are not that privileged. . Hence, the bigger brands can use the PWAs to address this crowd. It will earn both reputation and profits for a brand in the long run.
Here is a list of big names in the world that are leveraging progressive web apps
Go through these names and understand the technology more before you go ahead and contact the best company for app development services in the market.
Who are these big brands that use PWAs? Let me give you a list of them. Go through the list and have a better understanding before you go to the companies which provide app development services.
Forbes
Who is unaware of Forbes? I do not think that there is any. The reputed media company started making use of Progressive Web Applications with the intention of providing a much better mobile experience to its millions of readers worldwide. It has been a success story because Forbes claims that the user engagements have been increased on their app since they made this change. The loading time is very low in this app. MMT uses PAW to serve its customers, users better, and faster.
MakeMy Trip
The Indian corporate giant is known for providing its users with a better travel experience. On average, there are more than 8 million website visitors per month. With the PAWs, they have been able to provide a better user experience for users worldwide.
Twitter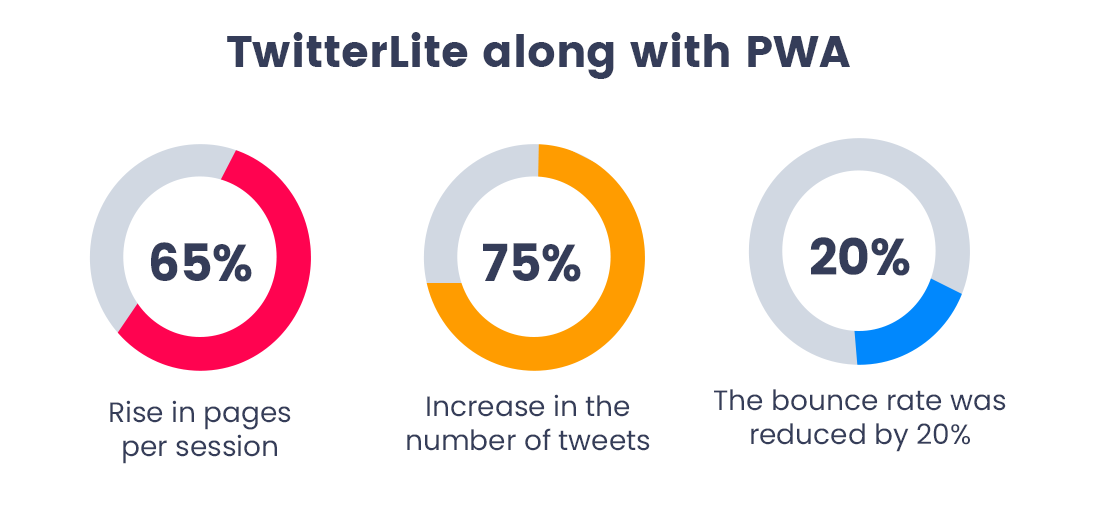 The social media giant Twitter launched TwitterLite along with PWA. What Twitter expected with implementing PWAs was providing an interactive experience for their clients. And they succeeded. Below are a few of the benefits experienced by Twitter after starting to use PWAs.
75% of increase in the number of tweets
65% rise in pages per session
The bounce rate was reduced by 20%
Trivago
Did you know that the PWA of Trivago is spread in more than 30 countries in more than 30 languages? Since Trivago started using the Progressive Web Applications with their business, customer engagement has gone to another level. Trivago is now visible on search engines like never before.
Suggested: Top 5 Tools & Frameworks to Build Progressive Web Apps
Starbucks
You do not have to be online to check the menus and place the orders with the Starbucks PWA. The use of PWAs and the responsive interface have been able to improve the business productivity and performance of Starbucks.
AliExpress Etail PWA
AliExpress is an e-commerce platform launched by the online business giant Alibaba. When it was launched, Alibaba wanted the people to download their which was available for both Android and iOS. But this decision was not something that proved to be fruitful as they did not get the expected response from the market. Then, Alibaba used PWAa with the intention of overcoming the issues they faced with their native app. After the launch of AliExpress PWA, the conversion rate of Alibaba went up to 104%. Now the customers are raving in their feedbacks about this change by Alibaba.
Progressive Web Applications can run without a proper internet connection or even offline when they are installed on your system. PWA development is different from traditional mobile app development. Therefore you should be cautious and choose a mobile app development company that provides progressive app development services to develop your PWAs.