IoT App
Development Company
We at AnyAlpha have gained a reputation as a trusted IoT app development company among global leaders. Our skilled IoT developers help businesses get familiar with advanced technologies like IoT to effectively enhance their business growth. We are dedicated to connecting the real world with the digital one and help businesses to achieve desired growth through innovative IoT solutions.
IoT App Development
At AnyAlpha, our skilled and knowledgeable IoT developers are dedicated to delivering outstanding IoT solutions for global clients to make their business more secure and tech-oriented. We can easily handle unique and latest IoT devices to provide factors like flexibility and high security.
IoT App Development Consultancy
Our experience in delivering top-notch IoT apps helps us in outlining a result-driven technology roadmap that offers customized solutions to fulfill your business requirements. Being a leading IoT app development company, our consultancy services provide specialized insights regarding the IoT app development that will work best for your business.
API & Backend Development
If you are looking for an API and Backend solution for your IoT apps then AnyAlpha is a one-stop solution for all your needs. Our experienced IoT developers have huge expertise in providing the best API & Backend development service.
IoT Gateway Development
Using our proficiency in advanced technologies, we develop a virtual hardware device or a software code as an IoT gateway. It works as a communication bridge between the IoT sensors and the cloud server. This helps businesses to manage storage and simplify data flow.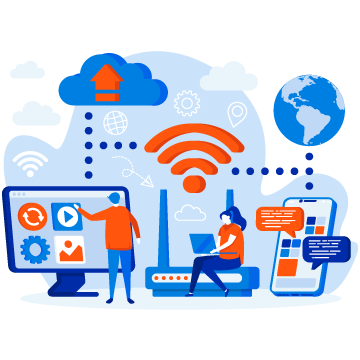 Connectivity with Wearable Devices
IoT developers at AnyAlpha have wide-range experience and knowledge in developing top-notch IoT apps compatible with wearable devices like smart home appliances, smartwatches, and more. Our major motive is to enhance the reach of the business through outstanding wearable devices.
Voice-Enabled Tech Solutions
As an IoT application development company, we at AnyAlpha provide end-to-end and top-notch IoT solutions to our global clients. Our expert IoT developers have huge expertise in developing voice-enabled IoT solutions for several industries.
IoT Integration & Support
Together with IoT app development services, we are capable of delivering wide-range post-development support as well as maintenance services to our global clients. We believe in providing the best IoT development services to our clients.
Have an App Idea?
Convert your App Idea into a Profitable Business.
Why Should You Choose

IoT Application Development?

Using innovative techniques and advanced technologies in the mobile apps world to enhance the business capability, we at AnyAlpha listed as a top-rated IoT application development company among global leaders. Our developers work with the motive to provide the best customer services and bring technology in their hands to make everything easy for them.

Automated and Optimized Process
The use of IoT technology helps in making a system or a process automated through which multiple tasks can be automatically accomplished. It also helps businesses in getting the optimized process to deliver desired results.

Smart and Enhanced Supply Chain
Smart supply chain helps in bringing awareness for taking effacing decisions with the help of data collected from IoT devices and it also provides detailed visibility of the products, starting from manufacturer to retailer.

Customized Offering
The IoT technology allows you to develop customized applications as per the requirements of the clients. The developers can now easily deliver customized IoT development services and deliver desired end products for clients.

Enhanced Processes
The IoT technology specially is designed to simplify and automate several processes related to business. It allows you to enhance the productivity as well as efficiency of the business and helps you in providing user-friendly services.

Optimized Resource Use
The major goal of the businesses is to deliver maximum effect with the use of minimum resources. The IoT technology helps you in optimizing the use of a resource which allows you to gain desired results with the use of proper resources.

Higher Sales and Revenue
What makes IoT app development services successful is when they allow businesses to receive higher sales and revenue. With the use of IoT technology, businesses can easily enhance their growth in the market and generate higher sales as well as revenue.
Our IoT App
Development Process
For us, client satisfaction is the topmost priority and that's the reason our developers follow an agile process to successfully develop IoT apps that help global clients to achieve desired results.
Research and Analysis of Requirement
Our dedicated project manager analyzes your business requirements and according to that finds the best strategy to deliver the desired end product.
Project Feasibility Discussion
We at AnyAlpha also perform an assessment on a proposed project to find out the potential problems before implementing the project in reality. It allows us to develop an error-free project.
Selection of Engagement Model
Being a top IoT app development company, we provide multiple engagement models and according to the business requirements, clients can select the best one.
Expert Team Deployment
The major reason behind our expertise in delivering feature-rich IoT apps is our experienced and skilled team of developers who deploy the outstanding app as per the needs of clients.
QA & Testing
To deliver an error-free product, our quality analyst team performs testing as well as quality analysis over the developed product and ensures its performance as well as security.
App Launch
What makes IoT development services impactful is our expertise in launching a feature-rich, robust, and secure mobile app across multiple platforms.
AnyAlpha: A Technology-Driven App Development Company
Profit-driven apps to trend-setter mobile applications
Hire Web Developer
Developing a good website is a time-consuming process. It calls for expertise in building custom and scalable web solutions. The creative web designers and programmers at AnyAlpha specialize in Web Development with a vast knowledge of programming languages like PHP web development, React Native, React Js as well as all the new and advanced technology. Our team of web developers offer you with rich functionalities for serving your business's intent better.
Whats Our Client Says
"We greatly appreciate the exceptional support you and your team gave us during the launch time. Very impressive and heartfelt thank you to the entire team."
"AnyAlpha is the best IT service provider company in the business. They delivered an app with a very user-friendly interface in the decided period of time with a diligent team in place always ready for support. Highly recommended for app creation !!"
"I chose AnyAlpha because they were highly recommended by a dear friend. And today as I write this, I must say I am very happy that I made the right decision. Anytime we were stuck or faced any issue we got instant support. Also, the team is highly professional and considerate of the client's needs and requirements. Thank you for the amazing service."
Latest Blog
React vs Angular vs Vue:
Which Framework to Choose in 2021
Many developers have faced a consequence while choosing the framework. The question gets tricky with a lot of options and variations in the software...
Android Apps List
Top 10 Must-Have Android Apps In 2021
Do you know there are more than 3.5 million apps on the Google Play Store which makes it extremely hard to make the right...
1

Do you provide end-to-end system integration?
Yes, our major end-to-end system integration services are;
ERP integration
CRM integration
Email gateway integrations
Payment Gateway
2

What do you do to maintain privacy?
Being a leading IoT development company, we offer advanced security features to maintain privacy as well as security of your data. Our developers use hybrid data encryption standards to deliver high-rated privacy.
3

How much time do you need to develop an IoT-based mobile app?
To give you the proper IoT app development time estimation, firstly, we need to examine the requirements of your project because as per your business needs we need to add several functionalities which can take enough time to develop a feature-rich app. So, feel free to contact us to get the right estimation of time in developing your app.
4

What will be the cost of developing an IoT app?
It is not easy to provide an exact development cost without knowing your app idea and business requirements. The cost of a robust IoT app depends on various factors as well as the hiring model. Once you contact us for app development, our project manager will help you in describing the development cost after analyzing your business needs.
5

How can I see the growth of my app during the development process?
What makes us a trusted IoT app development company is the transparent approach followed by our developers. Throughout the development process, we maintain a transparent approach and provide a regular update about the project's growth to our clients.
6

Why choose AnyAlpha for IoT application development?
Our expertise in delivering top-notch and feature-rich IoT apps makes us one of the leading IoT app development services providers across the globe. The expertise of our developers in delivering outstanding results across multiple industries using their experience helps us in gaining the trust of global leaders.